Lucie is the founder and voice behind LucieLoves, a fashion and lifestyle blog where she explores fashion trends, beauty and fitness.
We were lucky enough to meet Lucie and chat about all things fitness. From the trend of athleisure wear to cheat day meals! Enjoy.
Photography by James Barley http://iamjamesbarley.tumblr.com
Strip: As a blogger with a large community of followers and hectic lifestyle, what's the best way to motivate yourself when you don't feel like exercising or struggling to find time?
Lucie: When I'm not feeling that motivated, I often look for inspiration in the people that I follow on Instagram, who maintain a healthy, active lifestyle. If I've seen one of them has gone for a run, and I've not done anything – it makes me feel lazy and pushes me to want to get up and do something that will boost my mood. Self-improvement is a wonderful thing, and a quality that I admire greatly in others. If you don't make the effort to get fit and stay fit, to look after yourself, physically and mentally, no-one else is going to do it for you.
Strip: What are the most common gym mistakes people make?
Lucie: Signing up to a new gym in January, paying for an expensive membership, going a handful of times and then never going again is generally up there with one of the most common gym mistakes. Not working out hard enough to break into a sweat, and then complaining that you're not seeing results is another one. If you aren't prepared to change your diet and lifestyle, to support the results that you want to achieve, then progress is going to be slower than you hoped. I think it's also really important to ask advice from the personal trainers, especially if you aren't sure how to use a piece of machinery or what weight to use. Form is more important than weight or repetitions. Warm up well and remember to stretch!  
Strip: Who is your favourite active wear brand to wear?
Lucie: I own a lot of Nike and Adidas pieces but also love the Lucas Hugh range. From Strip, I particularly like the We Are Handsome and Koral Activewear pieces, for quality, design and comfort.
Shop our We Are Handsome and KORAL pieces here
Strip: What does your typical week in workouts look like now?
Lucie: I've just signed up to do a 10K run this summer, as part of the Vitality Move festival, and will be blogging about my journey as one of their Movers. Training for the 10K will involve a new fitness programme and will see me incorporating running into my fitness routine again. Summer days are perfect for this. I also enjoy weights, kettlebell and HIIT workouts. I used to think that I'd get bulky if I started lifting heavy weights. Instead, it was quite the opposite. I got lean, and stronger than I'd ever been before.
Strip: You beautifully modelled our We Are Handsome collection for us, which piece was your favourite?
Lucie: I love anything with an intricate back-detail and bold print. The Basque print set was very fun to play around in. It reminded me of Versace or Moschino! Very swanky gym wear.
Bralet: http://bit.ly/2hwhBQc
Leggings: http://bit.ly/2okL7gN
Strip: What is your ultimate cheat day meal?
Lucie: Oh my! Where do I start? Carbs. I'm known for my pizza addiction. I think I might be Dominos favourite customer… However, I love love love pies. Give me a steak and ale pie, with a side of creamy mash, and tons of gravy and I'm yours! Also… a big stack of pancakes with bacon and maple syrup is always a good Saturday brunch.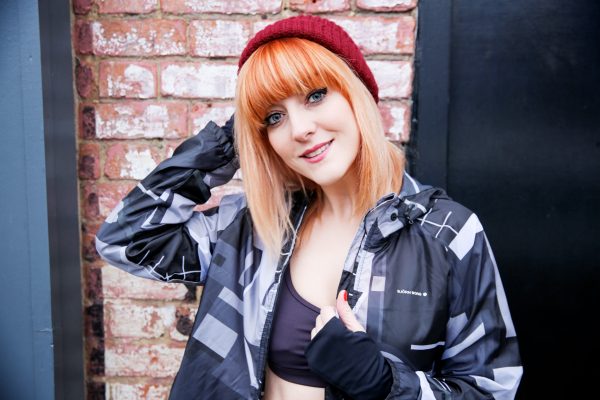 Strip: Athleisure wear has taken the world by storm and is one of the biggest trends for 2017. The trend is being worn as a go-to casual outfit and even an evening outfit.  What would your typical athleisure outfit of the day and outfit of the night look like?
Lucie: In terms of Athleisure, there are some beautiful one-piece and crop tops out now. I'd pick something versatile that could be worn in a number of ways. A one-piece can be worn with a leather pencil skirt, denim shorts, or skinny jeans, as can the crop top. Switching up the look from sneakers to sexy heels. Come festival season, the bralettes will also look really cool under dungarees, or under backless dresses. It's all about choosing a print that pops, something fun, that makes you smile every time you wear it.
Shop our active wear bralets here: http://bit.ly/2fNCzd0
Read more over on Lucie's blog here!